T-PLAS 20 - 23 SEP 2023 | BITEC | BANGKOK
---
Exhibition name: T-PLAS (International Trade Fair for the Plastics and Rubber Industries) Exhibition time: September 20-23 Pavilion Name: Bangkok International Trade and Exhibition Center (BITEC) Pavilion Address: 88 Bangna-Trat Road (km. 1) Bangna, Bangkok 10260, Thailand Booth number: U02
T-PLAS is Thailand's best-in-class trade fair for the plastics and rubber sectors. Strategically positioned in Southeast Asia's largest plastics processing industry, the trade fair provides the opportunities for participating companies to springboard their foothold into the regional plastics and rubber markets.
Shandong Tongjia have many mature solutions in plastic industry, relate to chemical packaging, logistics, household appliances, healthcare, automotive parts, photovoltaic, and construction... We will bring the most popular product sample in Thailand and Southeast Asia to show you it.
Hope can meet you in T-PLAS, offer you professional support in plastic industry.
Booth information
Exhibition name: T-PLAS (International Trade Fair for the Plastics and Rubber Industries)
Exhibition time: September 20-23
Pavilion Name: Bangkok International Trade and Exhibition Center (BITEC)
Pavilion Address: 88 Bangna-Trat Road (km. 1) Bangna, Bangkok 10260, Thailand
Booth number: U02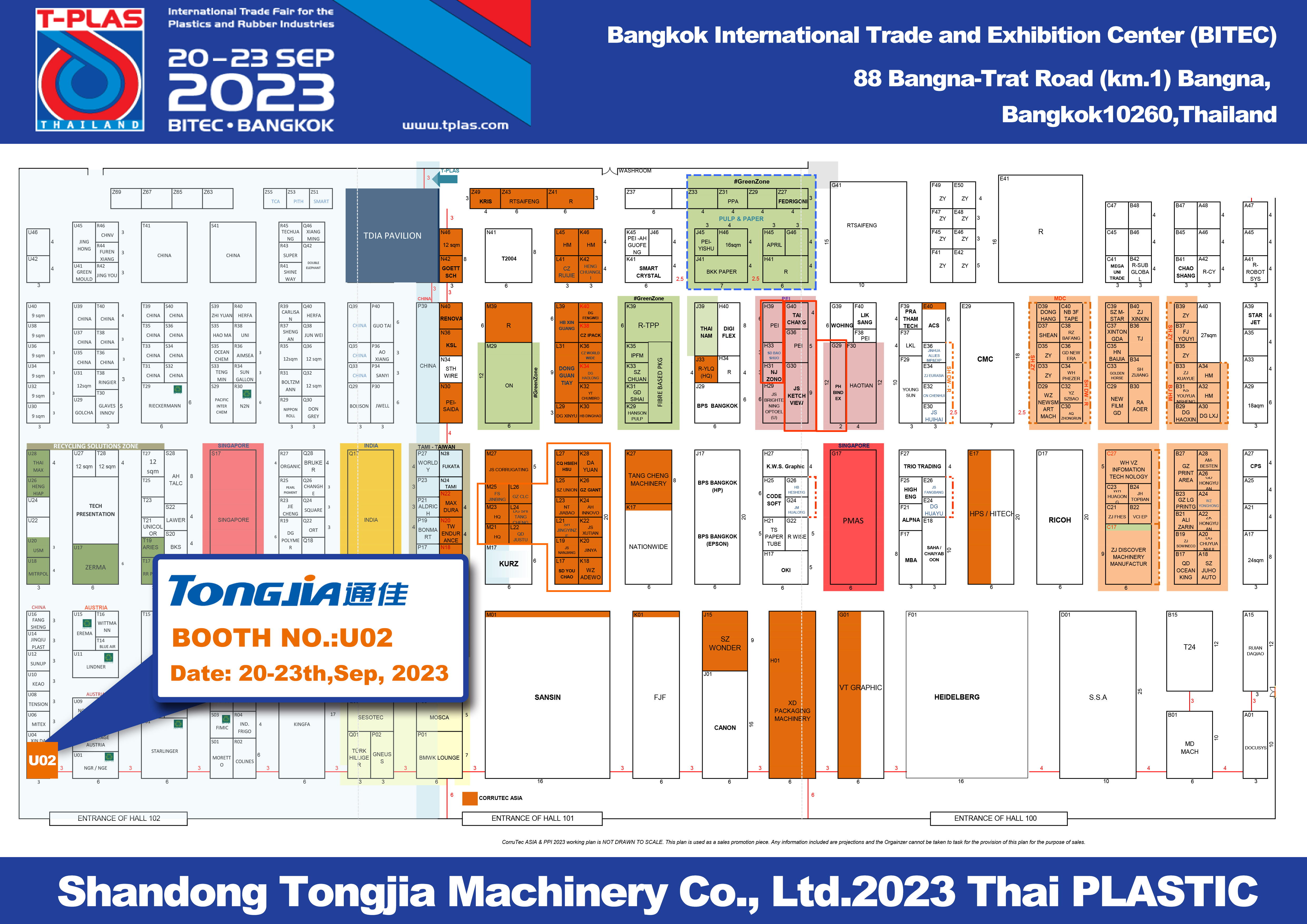 Wechat QR code

Shandong Tongjia Machinery Co., Ltd.
Address: No. 96, 327 National Road, National High-tech Industrial Development Zone, Jining City, Shandong Province
Tel: +86-13792366525
+86-537-2279166 2986611 2986622
Fax: +86-537-2986199 2984888
Post Code: 272000
E-mail: sales@tongjia.com
---
copyright © 2022 Shandong Tongjia Machinery Co., Ltd.